Meet the Angels Senior Home Solutions Team
---
David Morgan is the President of Angels Senior Home Solutions. David has first-hand experience with some of the same in-home companions that provide care at Angels Senior Home Solutions. Senior Home Companions, a sister company of Angels Senior Home Solutions, provided care for his grandparents. Thanks to those dedicated and compassionate caregivers, David's grandparents were able to enjoy a full and independent lifestyle..
Nicholas McGail
Executive Director
---
Nicholas McGail has worked in senior healthcare for over 10 years. During his years working in healthcare, Nick's passion and interest in helping others continues to grow. He has witnessed many families in need of the best care for their loved one. Nick has been very instrumental in helping to provide that level of care, the same care he would want for his own loved ones. Nick learned of Angels in Home from their President and recognized right away that he wanted to represent a company that exudes sincere compassion and loyalty.
Heather Todd
Director of Operations
---
Heather Todd has worked in healthcare for over 15 years, focusing on business development and community engagement. Throughout her career, she has seen care providers help people improve their quality of life. As Director of Operations, Heather focuses on ensuring Angels in Home's processes and workflows help to create an exceptional experience. She identifies opportunities for improvement and ensures staff and caregivers have the support they need to be successful in their roles. Heather holds a BA in Integrated Strategic Communication from the University of Kentucky, and is a Certified Senior Advisor. When she isn't spending time with her husband, son, and their dogs, she enjoys volunteering.
Working with Angels in Home is an opportunity to help people have their best days, through individually tailored, professional care.
Bridget Buchanan
Client Coordinator
---
Bridget has more than 10 years of healthcare experience including housekeeping, dietary, environmental services, activities, and caregiving. She has been with us since we began providing services in 2006. She is a proud mother of four great children, two girls and two boys.
I have worked in many areas of healthcare, but home care is truly my calling! I love working for Angels.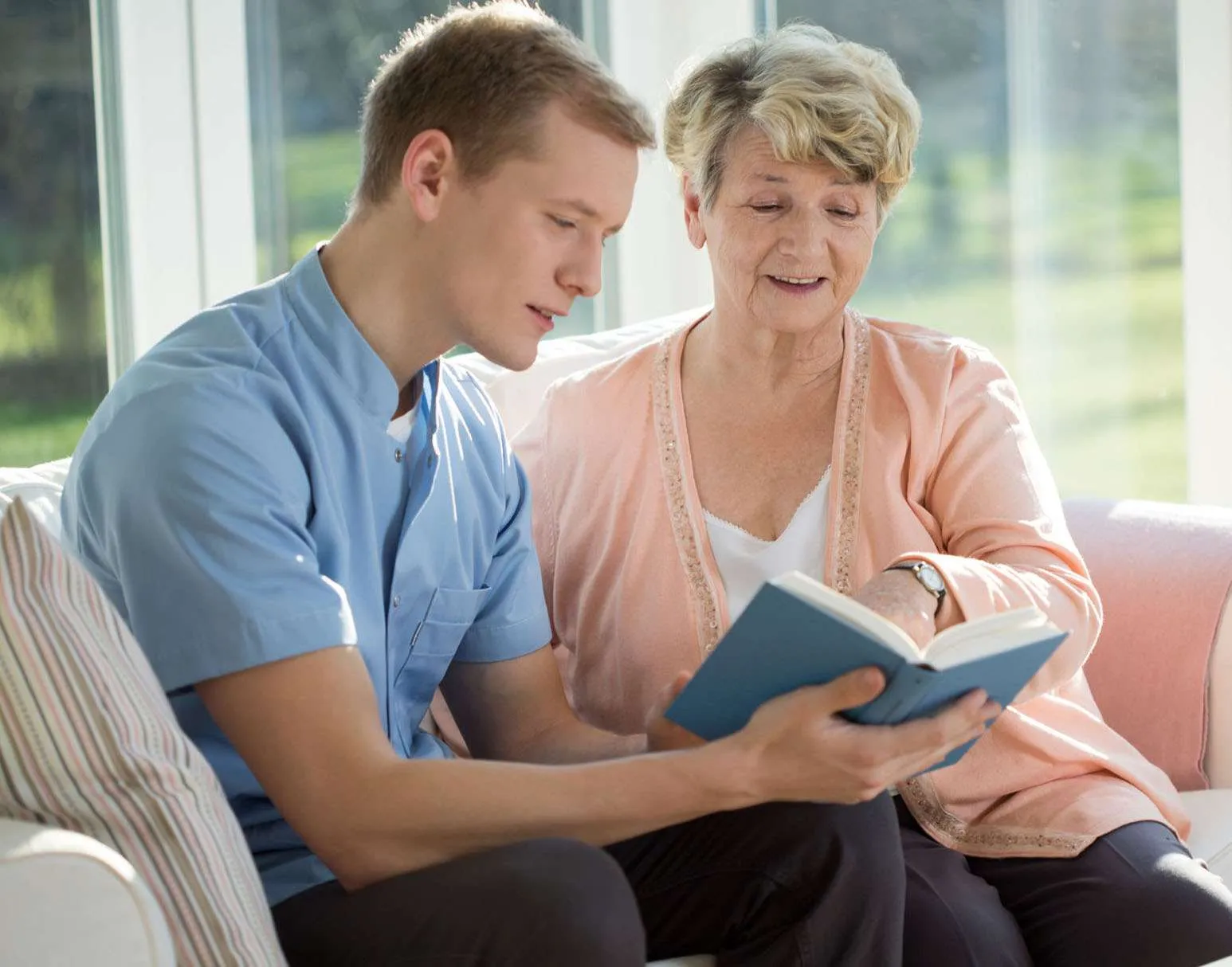 Ricia Williams
Staff Education & Administrative Assistant
---
Ricia joined the Angels team in October 2013 as a caregiver and she now also serves the agency in administrative support roles with a focus on caregiver training and assuring high quality client service. She has had a long and varied career that has included elderly direct care, childcare, retail sales, and payroll and pension administration, but she finds her work as an Angel to be the most rewarding of all. Her clients continually teach her how to age well, and she loves being a part of helping clients live better.
Ricia came to Angels largely as a result of providing care and support to an elderly family friend, a long experience which moved her deeply. Ricia and her husband live in West Lafayette. She enjoys knitting, crocheting, spending time with their children and grandchildren, and serving in their church.
Carolyn Butera
Office Coordinator
---
Carolyn has been in the healthcare field since 2014 where she started her career as a CNA. She had worked for 2 years as a rehabilitation technician at a local skilled nursing facility, while she attended school working towards a Healthcare Administration degree. Carolyn joined our team in October of 2016 as a caregiver and transitioned to an office position in March of 2017. Carolyn continues to grow with our company, but has still retains the passion for the utmost quality care for seniors that she demonstrated as a caregiver.
Carolyn spends her spare time in her garden, where she grows a variety of vegetables that she cans every year. She is an avid horseback rider and in her younger years competed in Dressage. She also has a love for dogs. On weekends you can find her in one of local parks hiking with her boyfriend and 2 beautiful dogs.
Erika White
Client Services Manager
---
Erika White has worked in healthcare in the field of pharmacy for the past 5 years as a licensed technician while attending Butler University. It was during her time at Butler that she realized her true passion was in helping others, seniors in particular. Upon changing her career path and major, she found Angels Senior Home Solutions and knew right away that it was the place for her.
Erika is involved in her community as the current Vice President of the Business and Professional Women, a volunteer for the Women's Resource Center, and many other organizations where she helps to plan fundraisers and other events. In her free time she enjoys spending time with her husband and teenage son and their two St. Bernards at Raccoon Lake in Parke County, Indiana. Erika has plans to further her education in the field and to become more immersed in the growing industry of senior care.
Susan Jordan, RN, BSN, MA
Founder
Susan Jordan founded Angels Senior Home Solutions as a service-based company in 2006. Today, we have been blessed to have provided care for more than 700 clients and employ more than 90 individuals. Susan takes Angels' mission of listening and helping others to heart and strives to assist seniors in receiving the best in-home care possible.
---
Background:

Bachelor's Degree in Nursing
Master's Degree in Gerontology and Management
Licensed National Facility Administrator